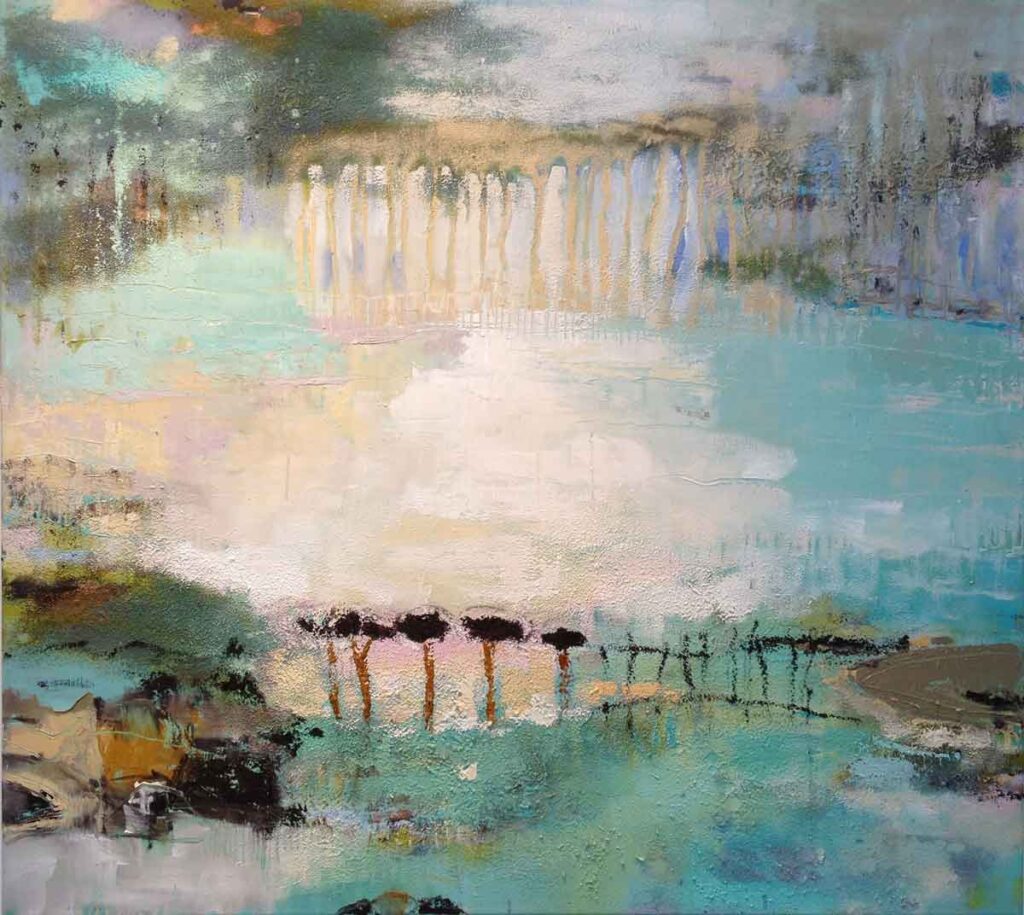 It is the mood, sensuousness, range of colors, and composition that is essential
Nature, with its various colors and configurations, is Melaine's paramount inspiration. By sensing the power of nature and by studying its configurations, Melaine is able to give us a very precise experience of the place she paints. One does not need to know the actual landscape or place of the motif.
Grethe Hagensen
Writer at Kunstavisen (Danish art paper)
From the book '101 Artists', 2013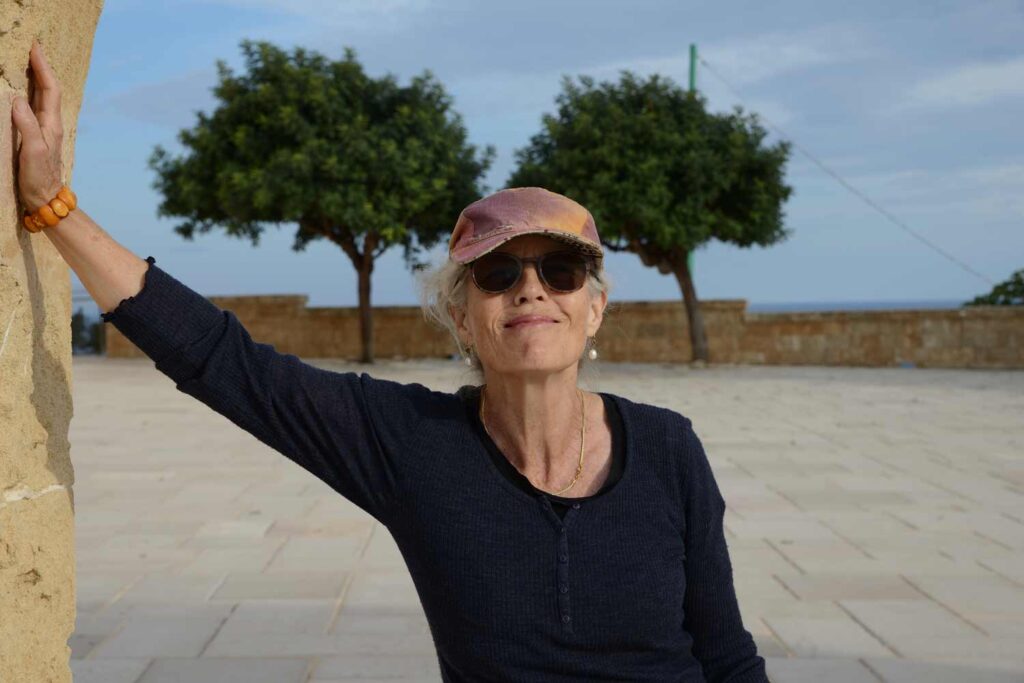 I have lived in Mozambique for six years and has had long-term stays under distant skies, e.g Afghanistan, Iran, Pakistan, Vietnam, the Mediterranean; and Northern Norway, The Faroe Islands, and Greenland.
In 1998 my husband and I walked from Saint Pied Port in Southern France to Santiage de Compostella; El Camino. A walk of more that 700 kilometers. The intensity and mpression from that trip is very present in my mind. An inspiration that is still alive.
First, it was the job as a midwife that gave me the opportunity to see the world. I had my first exhibitions, as an artist, abroad of paintings that I had worked on secretly in Afghanistan, where paper and colors had to be smuggled into the country, and then exhibited in Pakistan.
But I still find much inspiration in the journey. Also the journey close to my home. The journey is being in the present moment and hightening your senses. The journey is mirroring your own culture and nature in what is foreign.
But most profound is the interest in what we have in common as human beings – culture, art, spirituality.
Especially, I'm fascinated by nature's ornaments and shapes I water, sand, trees, rocks, and the human body.
To find the modes of expression and hues of colors in beauty and aesthetics that human beings, at all times, have had need for and has aspired to create, is my focus.
A game of negotiating the abstract and the recognizable form.
Gerhard Richter
says without shame
That he loves beauty. That beauty is the most important thing to him. … and that the trends of time should not define if he can paint a landscape. Beauty and truth are connected in Gerhard Richter's universe.
Member of KUFA
(Danish Artists' Union)
Graduated from 'Grafisk Skole' in Aarhus
1997 – 1999 and 2001 – 2002
Århus Kunstakademi
(Aarhus Academy of Art)
1996 – 1997 and 2003 – 2004
Trained Midwife 1977 1977
Read more >
KUNSTAVISEN
Grethe Hagensen writer at Kunstavisen (Danish art paper)
2019 Read article >
2012 Read article (in Danish)>

The Book 101 Artists
by Grethe Hagensen, 2013

UGEBLADET SØNDAG
(magazine)
af Rikke Hast  2011

VIBORG FOLKEBLAD
(local newspaper)
by Thea Berg Johansen 2011

MELAINE CHRISTENSEN:
Anette Jung Johansen, author, 2011

NORDJYSKE
(local newspaper)
by Dorte Rohde, 2011

VIBORG FOLKEBLAD
(local newspaper)
by Jesper Overgård, 2011

VIBORG FOLKEBLAD
(local newspaper)
by Jesper Overgård, 2009
Interview with Melaine Christensen and Finn Christensen – Roskilde TV, may 2023
Kunst og kultur
(Art and Culture)
with Melaine Christensen
Interview, in Danish, with Melaine Christensen på SRTV – Silkeborg Local TV
Exhibitions, lectures, and Studies Abroad
Previous exhibitions, lectures, and Studies Abroad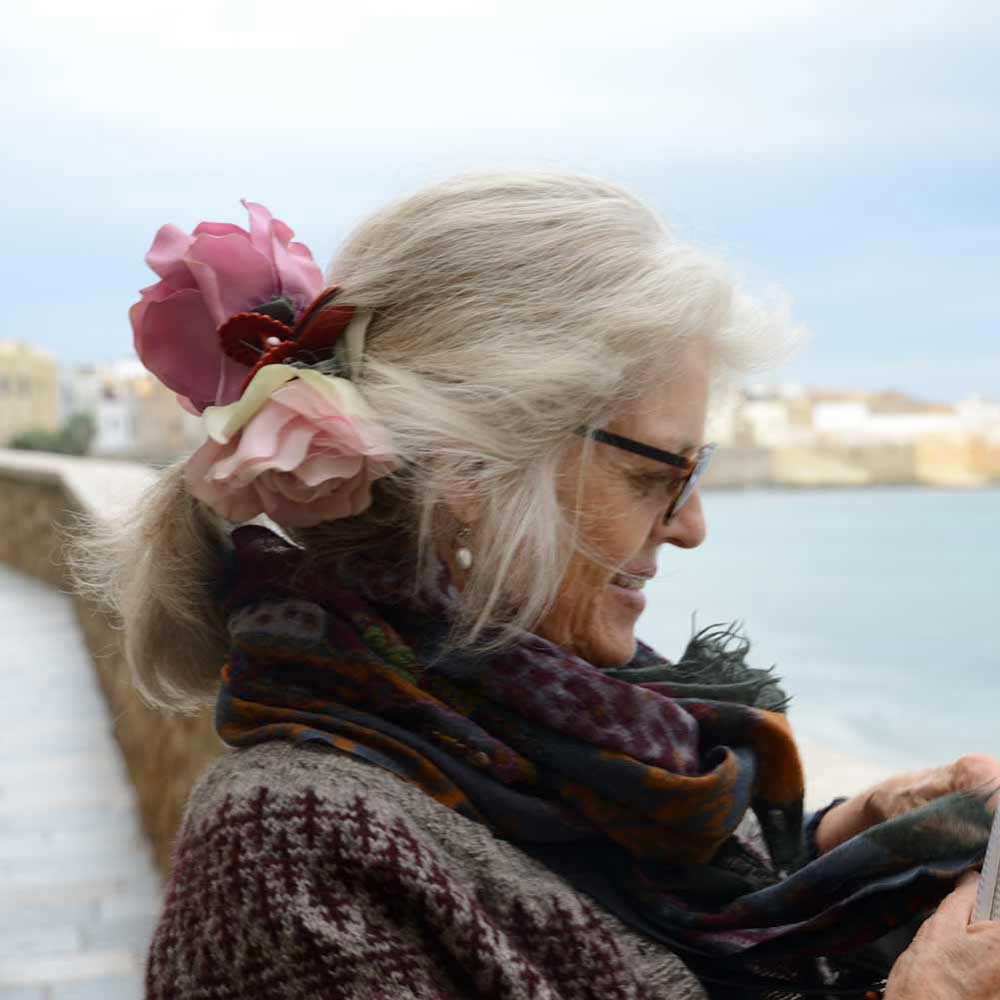 Inspiration in the Journey
I continuously find much inspiration in the journey.
Also in what is at home.
to travel is being present
to travel sharpens my senses
to travel is to feel the moment
to travel Is surprise
to travel is to wonder
to travel is my immense inspiration
to travel is to live – said H.C Andersen
As a midwife
I have practiced
the art of being present,
I've learned to focus
and to pay attention to my intuition
believing that
the Universe will help me
All this coax the children
onto the shores of life
and now helps me
when the paintings
are coming into life
Linocut by Dea Trier Mørck from the book: Into the World. I was a model for Dea when I was a newly qualified midwife.